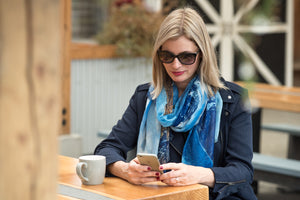 Fashion scarves
InFocus Canada
Fashion Scarves
InFocus Canada
Welcome to InFocus Canada's website! 
InFocus Canada is a Canadian small business whose mission is to raise money for
conservation and display incredible photography through sustainable fashion.
We produce beautiful scarves made entirely from recycled plastic bottles,
that are soft and flowy. Each scarf shows a photo from a renowned professional
photographer - creating a wearable piece of art. We donate 10% of each purchase
to environmental and conservation charities.
Thanks for being here.
Shop Ocean Collection SCARVES
---
SHOP ATHENA COLLECTION SCARVES
---
Shop National Collection Scarves
---
Shop BC Collection Scarves
---
Testimonials
I love your beautiful scarves and have received so many compliments over the years. Your mission is really compelling and I am excited to share your scarves and story with family and friends.A retailer at Harrod's once asked me to take my scarf off to show them (Shore Pines at Dusk). They made people in their shop come over to look at and touch it. Needless to say, it was a huge hit and I ended up with an offer to buy it. I took extra perfume samples instead ;)
Our family has been great fans of Vicktoria Haack's beautiful work for some time. We are so pleased to find such an inspired and inspiring product and congratulate you and your co-founder on this idea. Stunningly beautiful scarves, such talented photographers, recycled materials, and conservation donations is a combination that cannot be beat.
I consider my scarf to be a wearable work of art - because it truly is. The photo of a west coast beach and surfer is striking and beautiful, and the grey colours of the ocean scenery work together in the most natural way around the neck - I wear this scarf all the time! And it never fails .... I get asked about the scarf / complimented on it whenever I wear it. The material is extremely soft ... and while it keeps me warm in fall weather it is also light and airy and comfortable to wear inside. I need more in my collection!!
I received an InFocus scarf as a Christmas gift a few years ago. I just wanted to say, I love it! I get so many compliments for this scarf, and it is by far my favourite accessory. I have had it for two years now, I use it regularly, and it still looks and feels brand new. I love the photo both in full view when I wear it as a shawl, as well as the colour combination when it is wrapped up as a scarf. Further, I love that it is both a sustainable product and that the proceeds go to charity. Win, win!
I received my gorgeous Chris Collacott scarf this afternoon and love it – it exceeded my expectations. You made my day!
Order received today. They are fabulous. Thank you.
I just received my scarves today. They are even more beautiful than I thought they would be. I will be ordering a few more.
I love my scarf. It's so pretty and the weather is perfect for it so I've worn it almost constantly since it arrived yesterday.
This scarf that I got for Christmas, is just the BEST scarf that I have ever owned! I love the photograph. The colours are amazing. The concept of then having the floral image transferred onto recycled plastic is so perfect. And it is comfy and warm! It's unbelievable how many compliments it gets. People are blown away that it's printed on recycled plastic and not fabric.

charity
Each sale supports charity

HIGH QUALITY
Products coupled with superior customer satisfaction
QUICK RESPONSE
We will reply to your email as quickly as possible